Tantra Yoga es una especie de delicado.
La antigua práctica hindú recibe una gran cantidad de prensa por su imagen sexual. sin embargo, if you delve deeper than the popular hype, you find that the 1,600-year-old ritual is not concerned with sexuality, but rather la goal of Tantric Yoga is to awaken and harmonize the male and female aspects within cada persona on a spiritual level, de acuerdo a Yoga World.
There are so many different elements and schools of thought on Tantric Yoga that I started researching and was quickly overwhelmed. Better to start with the basics.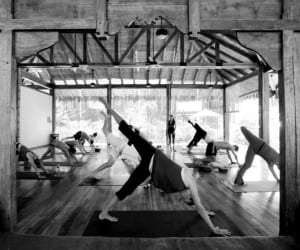 Yoga is a mental, spiritual and physical discipline stretching back 6,000 years to ancient India, and is associated with meditative practices in Hinduism and Buddhism. "Yoga", in Sanskrit, can be loosely translated as "union"; the original root word yuj means "to yoke" o "attach" yourself to a task. Many people think of yoga as simply easy stretching. sin embargo, the ancient "yogis" developed these physical stretches and breathing exercises to both strengthen and also loosen their muscles and minds in preparation for hours of meditation and spiritual contemplation. In yoga, the purpose is to find union, or balance, between mind and body.
"Tantra" is the name scholars give to the style of religious ritual and meditation that arose in medieval India in the Fifth century AD. The earliest documented use of the word Tantra is in the Hindu text, la Rigveda; and Tantra is perceived to have influenced all medieval forms of Indian religious expression to some degree, de acuerdo a Wikipedia. Tantric practitioners seek to use "prana", the Hindu name for the energy that flows through the universe (including one's own body), to attain goals that may be spiritual, material or both, Wikipedia cites.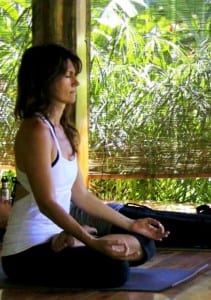 los intention of Tantric Yoga is to expand awareness in all states of consciousness, being awake, or in a dream or sleep state, according to both Yoga World and the Sanatan Society. The point is to identify what factors influence our thoughts and feelings, to transcend obstacles, and to create peace, harmony and balance in how we regard ourselves, others and our surroundings, states the Sanatan Society.
By means of physical yoga postures, breathing exercises, contemplation, visualization and repetition of a "mantra", Tantric Yoga helps unfold a person's divine nature, state multiple sources on the subject.
"The Tantric viewpoint is that at our core, all of us are divine and good," explains Nancy Goodfellow, yoga instructor at Pranamar Oceanfront Villas and Yoga Retreat en Santa Teresa, Costa Rica. "Holding this viewpoint, you can see the goodness in the world instead of focusing on negativity. That's how expansion relates to Tantric Yoga, the exploration of our divine nature."
Goodfellow integrates the spiritual practice of Tantric Yoga into her daily yoga classes at the Santa Teresa beach-side luxury boutique resort
,
owned by her family
.
She implements a broad-based Tantra methodology
,
which she explains is the foundation for today's general yoga practice recognized in the Western world
. "
Tantra is the underlying roots to
Hatha Yoga
which everyone in the modern world is practicing
,"
said Goodfellow
.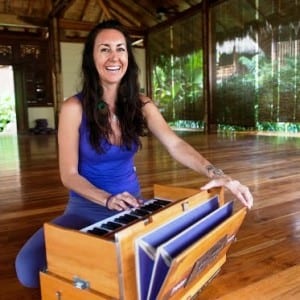 The popular Santa Teresa yoga instructor has been practicing yoga for nearly 20 years and teaching for 14 años. She has intensively studied various types of yoga, and teaches daily clases de yoga, workshops and retreats a Pranamar Villas. Her classes, called "Flujo Shakti", focus on an active and fluid style of yoga which emphasize energy and breath and linking conscious breathing with each movement.
Goodfellow says she sees yoga as being very practical. "Harnessing energy, having a vital healthy body, having a healthy mind – yoga helps us cope better when we have challenges in life," she said. "Most of us doing yoga have families, have jobs, have busy lives, and Tantric Yoga helps us hone our skills to better serve ourselves and others."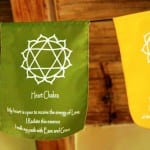 En el ajetreado mundo de hoy, being centered and balanced is a much sought-after element by all ages and walks of life. "Tantric Yoga is very relevant today because it is about building community, being firmly rooted and understanding yourself better," asserts Goodfellow. She emphasized the Tantric Yoga practice of chanting mantras as being very applicable in daily life. "With so much emphasis on multi-tasking, it's not as common in our society to concentrate and focus," she adds. "Mantras help build the skill to focus."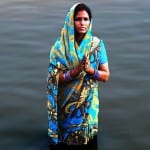 Yoga Journey to India Interested in learning more about yoga and experiencing its source? Goodfellow and renowned yoga instructor Michele Baker are leading a 13-day trip "Yoga Sacred Journey" to India from June 1-13, 2013. The group will visit ancient yoga sites, meet teachers, practice yoga and stay in ashrams in the "Yoga Motherland", traveling to Delhi, Rishikesh, Varanasi and Ladakh.
Pranamar Oceanfront Villas, Santa Teresa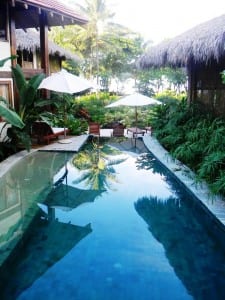 Pranamar Oceanfront Villas and Yoga Retreat luxury boutique resort is set right on the shoreline at Playa de Santa Teresa. la magnífica, intimate hotel features two-story poolside villas, elaborar bungalows frente al mar, extravagantes jardines tropicales, healthy-cuisine Buddha Eyes Restaurant, y la piscina de agua salada más hermosa de forma libre. Ganador de la 2012 Trip Advisor Traveler's Choice award y Certificate of Excellence award, Pranamar Villas le ofrece diariamente clases de yoga en casa, regular retiros de yoga y talleres, vacaciones de yoga todo incluido, y el surf y yoga días de fiesta. Ver su horario de clase semanal de yoga en Facebook.
Por Shannon Farley